Click on the Track courier button after entering your 2U Express tracking/consignment number.
Track your Courier, Order, or Shipment Online
No software installation required to track the courier. Any device connected with good internet is enough to track the shipment.
Not looking for 2U Express? Choose from our tracking support list here.
2U Express tracking and Delivery Status online
To track 2U Express shipments, packets, cargo, or parcels, Ecouriertracking.com offers an online automated tracking system. Instead of visiting a delivery location or calling a customer service center, you can check the status of your package online.
How to check the status of 2U Express online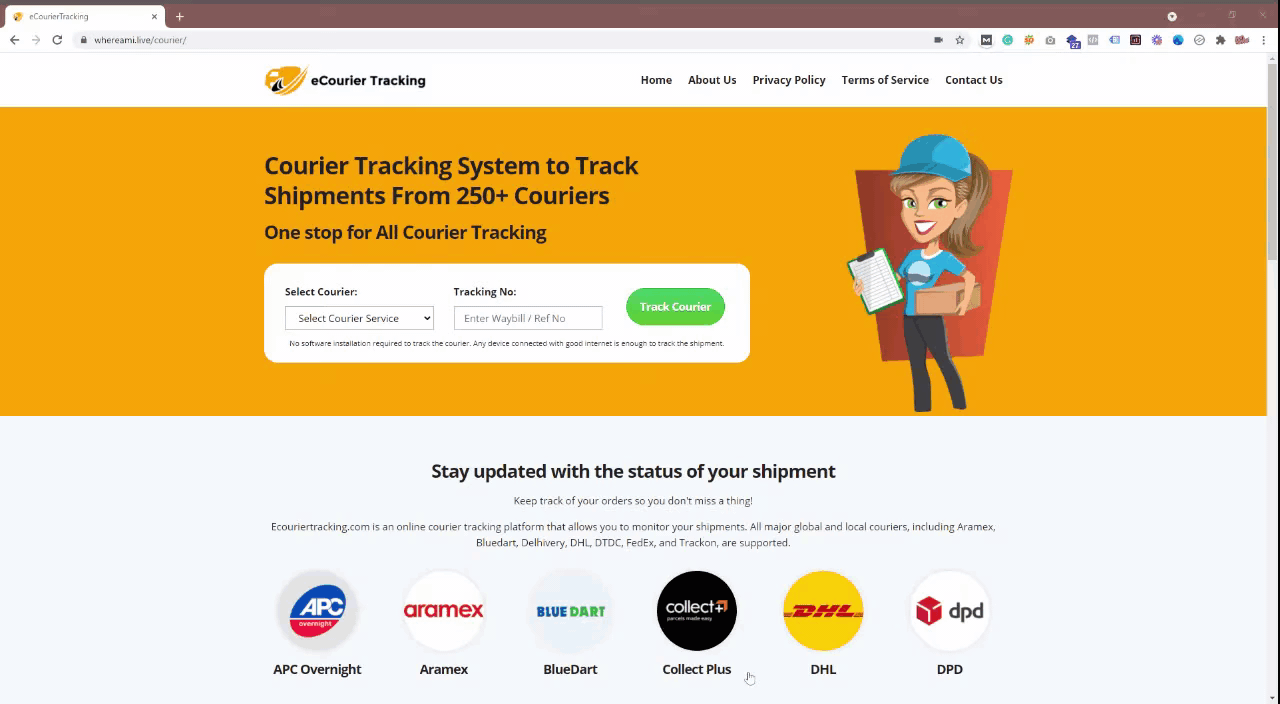 If you are expecting a courier from 2U Express, you can easily check the status of your shipment at any time. One way is to go to the 2U Express official website and monitor your courier's location online, while the other is to remain in this portal and follow the steps below.
Get your tracking number. Your 2U Express waybill number/reference number can be found on the 2U Express receipt or SMS which you should have received while sending the parcel.
Enter your 2U Express tracking/consignment number and click on track.
Wait 1-3 seconds for your 2U Express shipping status to appear under the form.
Official 2U Express Contact Information
Contact details of 2U Express for various cities are listed below along with respective 2U Express customer care numbers, emails, and their office addresses.
European and American headquarters address: 1425 128th Street College Point NY 11356
Chongqing Branch Address: 16F, Yangtze River Business Center, No. 401, Longshan Avenue, Yubei District, Chongqing
China Customer Service Tel: 400-616-7687
U.S. customer service phone: 1718-888-1037
About 2U Express Services

Youyou International Express is a new type of cross-border e-commerce international logistics company based in New York, USA, and Chongqing, China. It was established in 2015 and is registered in both New York and Chongqing. It is dedicated to the creation and deployment of global logistics solutions for cross-border e-commerce.
2you Express, through in-depth strategic cooperation with China Post, entry express ports, and other relevant government regulatory agencies, integrates the needs of overseas e-commerce companies and customers in the upstream of the industry, international air freight, domestic express logistics, and the resources of China's ports of entry. For the current growing cross-border e-commerce market from overseas to China, to provide efficient and legal foreign personal express parcel entry declaration and delivery services, via an online system to formulate orders, customs electronic declaration, online tariff payment, package status monitoring, and other services.
SF Express and Youyou Express signed a strategic partnership agreement in 2018 to contract SF Express's pickup and delivery services in the New York region. 2you Express 2019 has built over 10,000 square feet of standard warehouses in New York and Delaware, as well as a professional order management system, and can provide warehousing and fulfilment services for multiple domestic and international e-commerce companies at once.
2you Express currently processes 10,000 packaging orders a day, significantly speeding up cross-border e-commerce orders and improving customer loyalty.
In the event that the Consignment/Reference Number/Order Number do not match
The reasons could be 1 or more of the following:
Incorrect Consignment/Reference Number Number entry.
Invalid Consignment/Reference Number entry. The Consignment number varies between 7 to 11 digits only. Please re-check the numbers you have entered.
For multiple queries, please separate each Consignment or reference number with a comma only e.g. 111111,2222222,3333333
Incorrect Option Selection. You may have selected a Consignment option and entered a Reference Number, or vice versa. Please re-check your entry option.
There is no information on the Consignment/Reference Number/Order Number you have entered. Please try again later after some time.