Click on the Track courier button after entering your Gofly tracking/consignment number.
Track your Courier, Order, or Shipment Online
No software installation required to track the courier. Any device connected with good internet is enough to track the shipment.
Not looking for Gofly? Choose from our tracking support list here.
Gofly tracking and Delivery Status online
To track Gofly shipments, packets, cargo, or parcels, Ecouriertracking.com offers an online automated tracking system. Instead of visiting a delivery location or calling a customer service center, you can check the status of your package online.
How to check the status of Gofly online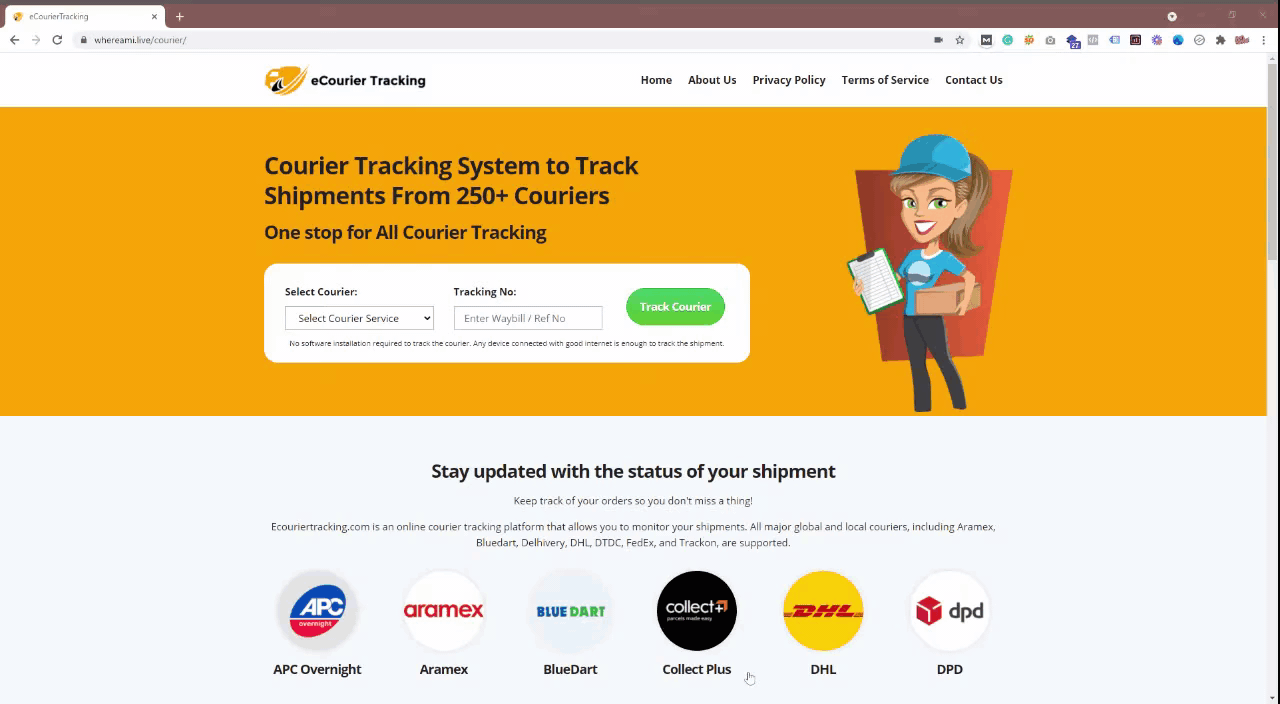 If you are expecting a courier from Gofly, you can easily check the status of your shipment at any time. One way is to go to the Gofly official website and monitor your courier's location online, while the other is to remain in this portal and follow the steps below.
Get your tracking number. Your Gofly waybill number/reference number can be found on the Gofly receipt or SMS which you should have received while sending the parcel.
Enter your Gofly tracking/consignment number and click on track.
Wait 1-3 seconds for your Gofly shipping status to appear under the form.
Official Gofly Contact Information
Contact details of Gofly for various cities are listed below along with respective Gofly customer care numbers, emails, and their office addresses.
Address: Avenida de los ángeles, Calle Aquiles Serdán, Oriente, 83553 Puerto Peñasco, Son., Mexico
Phone: +86 131 4383 0725
Email: [email protected]
Official Website: http://goflyi.com/
About Gofly Services

That's it. You've created your ideal internet business, selling boutique fashion, accessories, cookies, cosmetics, books, or whatever else your imagination can conjure up. Whatever it is, it will undoubtedly be a huge success. However, as orders begin to pour in and volume rises, logistics becomes a key consideration. It's one thing to have a fantastic product; it's another to link it together and deliver it on time. Finding the correct outlets for processing your storage, managing payment processes, moving to shipment while checking that nothing goes missing, and ensuring that the consumer actually receives it – you eventually realize how exhausting the process is!
GoFly enters the picture at this point. We are the first one-stop logistics solutions provider, taking care of everything from fulfillment to warehousing, pick and pack, and regular delivery. Everything is conveniently located under one roof, so you only have to deal with us. The finer points will be handled by us. You can concentrate on what you do best: nurturing and growing your company. We recognize that delivery is much more than simply transporting a box from a warehouse or store to a customer's address; it also includes picking, packing, verification, delivery, no-show, and returns handling. Fulfillment by GoFly automates these stages so you can provide a consistent customer experience, optimize your resources, and scale your business.
In the event that the Consignment/Reference Number/Order Number do not match
The reasons could be 1 or more of the following:
Incorrect Consignment/Reference Number Number entry.
Invalid Consignment/Reference Number entry. The Consignment number varies between 7 to 11 digits only. Please re-check the numbers you have entered.
For multiple queries, please separate each Consignment or reference number with a comma only e.g. 111111,2222222,3333333
Incorrect Option Selection. You may have selected a Consignment option and entered a Reference Number, or vice versa. Please re-check your entry option.
There is no information on the Consignment/Reference Number/Order Number you have entered. Please try again later after some time.