Click on the Track courier button after entering your Tuffnells tracking/consignment number.
Track your Courier, Order, or Shipment Online
No software installation required to track the courier. Any device connected with good internet is enough to track the shipment.
Not looking for Tuffnells? Choose from our tracking support list here.
Tuffnells tracking and Delivery Status online
To track Tuffnells shipments, packets, cargo, or parcels, Ecouriertracking.com offers an online automated tracking system. Instead of visiting a delivery location or calling a customer service center, you can check the status of your package online.
How to check the status of Tuffnells online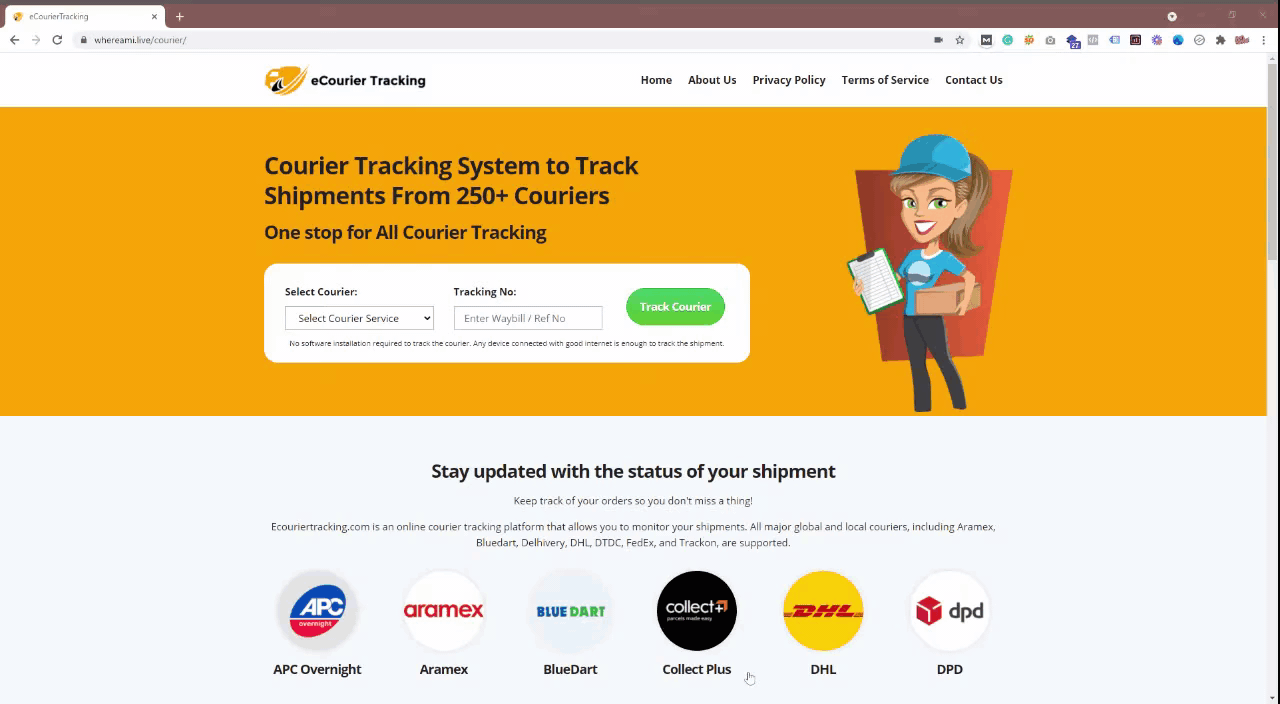 If you are expecting a courier from Tuffnells, you can easily check the status of your shipment at any time. One way is to go to the Tuffnells official website and monitor your courier's location online, while the other is to remain in this portal and follow the steps below.
Get your tracking number. Your Tuffnells waybill number/reference number can be found on the Tuffnells receipt or SMS which you should have received while sending the parcel.
Enter your Tuffnells tracking/consignment number and click on track.
Wait 1-3 seconds for your Tuffnells shipping status to appear under the form.
Official Tuffnells Contact Information
Contact details of Tuffnells for various cities are listed below along with respective Tuffnells customer care numbers, emails, and their office addresses.
Location
Contact Details
ABERDEEN
Units 1/2/3 Hareness road

Altens Industrial Estate

Aberdeen

AB12 3LET: 0330 838 0372

F: (01738) 624936

Email: per.csd@tuffnells.co.uk

ANDOVER
87 Livingstone Road

Walworth Industrial Estate

Andover

SP10 5NST: 0330 838 0344

F: (01264) 356410

Email: and.csd@tuffnells.co.uk

BASINGSTOKE
39 Morse Road

West Ham Industrial Estate

Basingstoke

Hampshire

RG22 6NET: 0330 838 0364

F: (01256) 357248

Email: bgk.csd@tuffnells.co.uk

BELVEDERE
Crabtree Manorway North

Belvedere Industrial Area

Belvedere

Kent

DA17 6BTT: 0330 838 0380

F: (0208) 3108395

Email: blv.csd@tuffnells.co.uk

BRIERLEY HILL

Wallows Industrial Estate

Fens Pool Avenue

Dudley Road

Brierley Hill

DY5 1QAT: 0330 838 0304

F: (01384) 70427

Email: brh.csd@tuffnells.co.uk

BRISTOL
Unit V Wellington Drive

Stover Trading Estate

Yate

Bristol

BS37 5NZT: 0330 838 0352

F: (01454) 310198

Email: bst.csd@tuffnells.co.uk

CARNFORTH
Unit 11 Kellet Road Ind Estate

Boundary Lane

Carnforth

Lancashire

LA5 9XPT: 0330 838 0416

F: (01524) 735834

Email: car.csd@tuffnells.co.uk

COALVILLE
18 Atlas Court

Hermitage Industrial Estate

Coalville

Leicestershire

LE67 3FLT: 0330 838 0348

Email: lec.csd@tuffnells.co.uk

COVENTRY
Gresham Road

Bermuda Industrial Estate

Nuneaton

CV10 7QRT: 0330 838 0428

Email: cvt.csd@tuffnells.co.uk

CRAWLEY
Stephenson Place

Stephenson Way

Three Bridges

Crawley

West Sussex RH10 1TLT: 0330 838 0384

F: (01293) 531155

Email: cly.csd@tuffnells.co.uk
About Tuffnells Services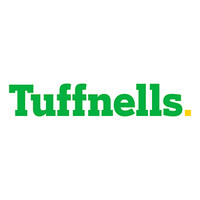 Tuffnells is a major provider of specialized freight and parcel transportation. We know our clients and are trusted to gather and distribute on behalf of over 4,000 small and medium-sized businesses across the UK, thanks to our over 100 years of experience. Tuffnells provides simple options for the deliveries that most find daunting to produce, whether it's a bulky parcel, an irregular-size consignment, or a pallet load.
Our customer base consists of a combination of local and global customers served by a regional network of 33 depots and over 4,000 employees. Tuffnells makes up to 70,000 monthly drops for company clients and delivers a variety of guaranteed and timed deliveries. Both of these items are tracked safely, with electronic proof of delivery and tracking information typically accessible within seconds of delivery.
Tuffnells now offers a road-based service into Europe and an Air Express service to the rest of the country, completing the spectrum of UK logistics options and positioning Tuffnells as a full-service distribution partner.
In the event that the Consignment/Reference Number/Order Number do not match
The reasons could be 1 or more of the following:
Incorrect Consignment/Reference Number Number entry.
Invalid Consignment/Reference Number entry. The Consignment number varies between 7 to 11 digits only. Please re-check the numbers you have entered.
For multiple queries, please separate each Consignment or reference number with a comma only e.g. 111111,2222222,3333333
Incorrect Option Selection. You may have selected a Consignment option and entered a Reference Number, or vice versa. Please re-check your entry option.
There is no information on the Consignment/Reference Number/Order Number you have entered. Please try again later after some time.