Click on the Track courier button after entering your Estes tracking/consignment number.
Track your Courier, Order, or Shipment Online
No software installation required to track the courier. Any device connected with good internet is enough to track the shipment.
Not looking for Estes? Choose from our tracking support list here.
Estes tracking and Delivery Status online
To track Estes shipments, packets, cargo, or parcels, Ecouriertracking.com offers an online automated tracking system. Instead of visiting a delivery location or calling a customer service center, you can check the status of your package online.
How to check the status of Estes online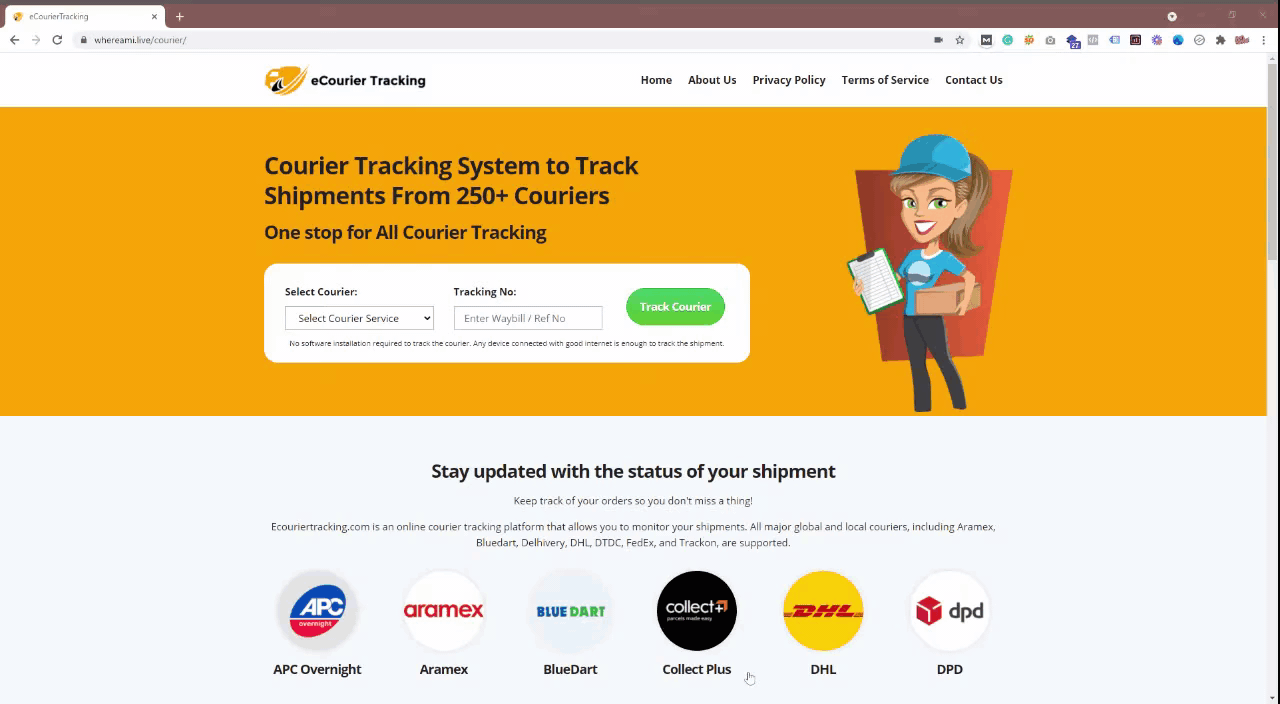 If you are expecting a courier from Estes, you can easily check the status of your shipment at any time. One way is to go to the Estes official website and monitor your courier's location online, while the other is to remain in this portal and follow the steps below.
Get your tracking number. Your Estes waybill number/reference number can be found on the Estes receipt or SMS which you should have received while sending the parcel.
Enter your Estes tracking/consignment number and click on track.
Wait 1-3 seconds for your Estes shipping status to appear under the form.
Official Estes Contact Information
Contact details of Estes for various cities are listed below along with respective Estes customer care numbers, emails, and their office addresses.
Corporate Headquarters
Office Location

3901 West Broad Street

Richmond, VA 23230

Hours: M–F 8:00 a.m.–5:00 p.m. ET

Postal Address

P.O. Box 25612

Richmond, VA 23260
Specific Departments
To reach a specific department in Estes' corporate office, please dial (804) 353-1900 and enter the appropriate extension from the list below.
Department
Phone: (804) 353-1900
Fax
Payment Services
Ext. 2500
(804) 359-9374
Credit Department
Ext. 2817
(804) 204-1720
Claim Resolution Services
Ext. 2030
(804) 232-1407
Customer Care
Ext. 2500
(804) 359-9374
EDI
Ext. 2600, press 2
Freight Bill Corrections
Ext. 2500
(804) 359-9374
Information Technology
Ext. 2600, press 1
Quotes
Ext. 2269
(804) 359-9307
Sales
Ext. 2699
(804) 980-7837
Rates
Ext. 2269
(804) 359-9307
Time Critical Guaranteed
Ext. 2334
About Estes Services

Estes is North America's largest privately held freight shipping company. For ninety years, we've been delivering dependable shipping solutions to our customers, and we've worked hard over the years to develop a strong transportation network, a reputation for dependability, and an award-winning safety record.
Estes operates a fleet of over 7,000 tractors and 30,000 trucks, as well as a network of 260+ terminals, as an asset-based freight transportation and custom logistics solutions provider. We also have the expertise and resources to remain nimble and attentive to our custodians' ever-changing shipping needs because our business was built on a strong financial base.
Our goal at Estes is to provide flexible freight solutions so you can concentrate on what matters most to you. Our firm offers the following services: LTL freight solutions to and from all 50 states, Canada, Mexico, and the Caribbean are available. Nearly 7,000 next-day lanes and over 270 million next-day points are part of a regular network. Time Management in Depth Time-definite, assured, and expedited freight delivery is among the critical solutions. Volume LTL and Truckload shipping to regional, national, domestic, and offshore destinations, based on assets and brokered.Comprehensive freight forwarding solutions that make it simple to ship securely anywhere on the planet.
In the event that the Consignment/Reference Number/Order Number do not match
The reasons could be 1 or more of the following:
Incorrect Consignment/Reference Number Number entry.
Invalid Consignment/Reference Number entry. The Consignment number varies between 7 to 11 digits only. Please re-check the numbers you have entered.
For multiple queries, please separate each Consignment or reference number with a comma only e.g. 111111,2222222,3333333
Incorrect Option Selection. You may have selected a Consignment option and entered a Reference Number, or vice versa. Please re-check your entry option.
There is no information on the Consignment/Reference Number/Order Number you have entered. Please try again later after some time.