Click on the Track courier button after entering your Vietnam Post tracking/consignment number.
Track your Courier, Order, or Shipment Online
No software installation required to track the courier. Any device connected with good internet is enough to track the shipment.
Not looking for Vietnam Post? Choose from our tracking support list here.
Vietnam Post tracking and Delivery Status online
To track Vietnam Post shipments, packets, cargo, or parcels, Ecouriertracking.com offers an online automated tracking system. Instead of visiting a delivery location or calling a customer service center, you can check the status of your package online.
How to check the status of Vietnam Post online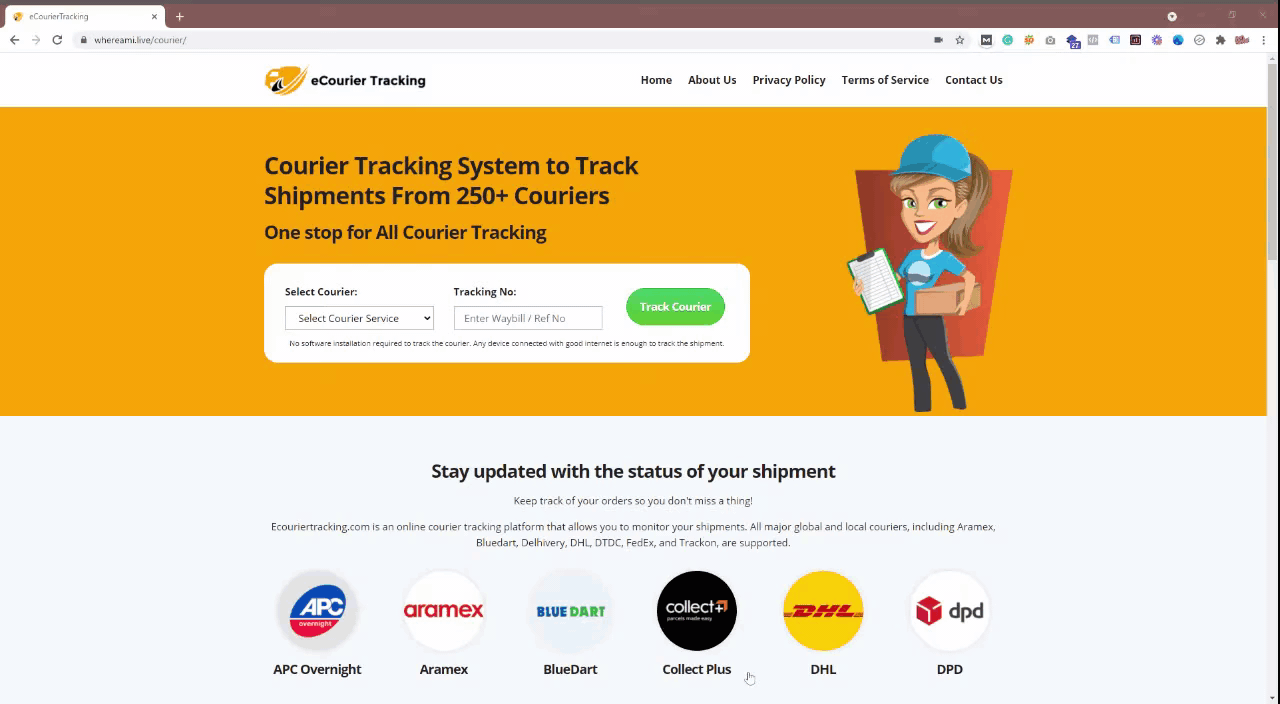 If you are expecting a courier from Vietnam Post, you can easily check the status of your shipment at any time. One way is to go to the Vietnam Post official website and monitor your courier's location online, while the other is to remain in this portal and follow the steps below.
Get your tracking number. Your Vietnam Post waybill number/reference number can be found on the Vietnam Post receipt or SMS which you should have received while sending the parcel.
Enter your Vietnam Post tracking/consignment number and click on track.
Wait 1-3 seconds for your Vietnam Post shipping status to appear under the form.
Official Vietnam Post Contact Information
Contact details of Vietnam Post for various cities are listed below along with respective Vietnam Post customer care numbers, emails, and their office addresses.
Address: 5 Phạm Hùng, Mỹ Đình, Nam Từ Liêm, Hà Nội, Vietnam
Phone: +84 1900 54 54 81
Email: [email protected]
Official Website: http://www.vnpost.vn/
About Vietnam Post Services

The fourth industrial revolution began several years ago, focused mostly on smart manufacturing, which is built on breakthroughs in information technology, biological technology, and nanotechnology. Along with this speed, Vietnam Post has always determined that the application of science and technology in manufacturing, particularly the application of information technology (IT), is critical to the enterprise." Pham Anh Tuan, Chairman of the Board of Management of Vietnam Post, began his conversation with us in the context of Vietnam Post's recent transition to the year 2017.
According to Vietnam Post's "captain," the company has considered and invested in the research of using new technical and technological achievements. One of the most notable projects was the application of IoT (Internet of Things – Internet that connects all things) to post office administration. The project to equip post offices with facilities and construct an IoT-based system is now being explored for deployment. But it's worth noting that, in the era of Industrial Revolution 4.0, Vietnam Post has courageously adopted digital transformation, improving the enterprise's service and administration, and laying the groundwork for future growth. Looking back on significant turning points in Vietnam Post's digital transformation journey, one might recall the year 2017 when nearly 4,000 smartphones and apps for collecting, selling, and delivering goods were deployed, helping to improve service quality, support business management, and operations, and provide timely feedback to customers.
In the event that the Consignment/Reference Number/Order Number do not match
The reasons could be 1 or more of the following:
Incorrect Consignment/Reference Number Number entry.
Invalid Consignment/Reference Number entry. The Consignment number varies between 7 to 11 digits only. Please re-check the numbers you have entered.
For multiple queries, please separate each Consignment or reference number with a comma only e.g. 111111,2222222,3333333
Incorrect Option Selection. You may have selected a Consignment option and entered a Reference Number, or vice versa. Please re-check your entry option.
There is no information on the Consignment/Reference Number/Order Number you have entered. Please try again later after some time.