Click on the Track courier button after entering your GDEX tracking/consignment number.
Track your Courier, Order, or Shipment Online
No software installation required to track the courier. Any device connected with good internet is enough to track the shipment.
Not looking for GDEX? Choose from our tracking support list here.
GDEX tracking and Delivery Status online
To track GDEX shipments, packets, cargo, or parcels, Ecouriertracking.com offers an online automated tracking system. Instead of visiting a delivery location or calling a customer service center, you can check the status of your package online.
How to check the status of GDEX online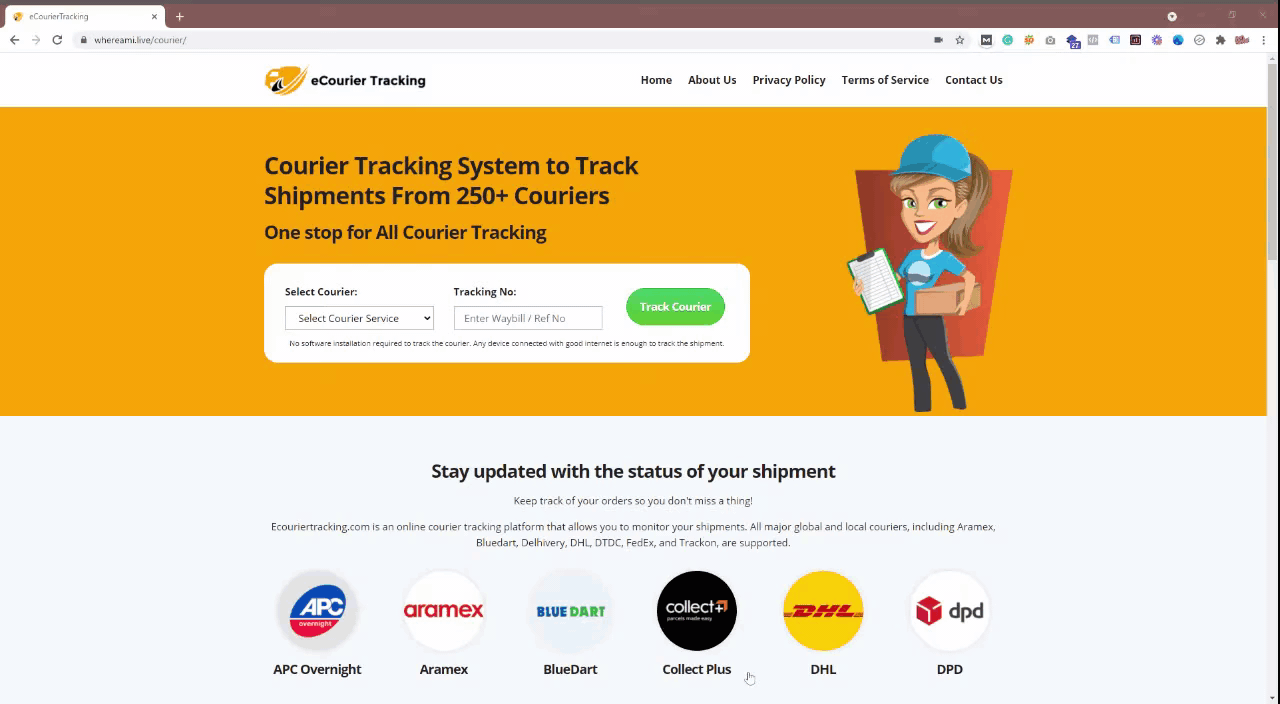 If you are expecting a courier from GDEX, you can easily check the status of your shipment at any time. One way is to go to the GDEX official website and monitor your courier's location online, while the other is to remain in this portal and follow the steps below.
Get your tracking number. Your GDEX waybill number/reference number can be found on the GDEX receipt or SMS which you should have received while sending the parcel.
Enter your GDEX tracking/consignment number and click on track.
Wait 1-3 seconds for your GDEX shipping status to appear under the form.
Official GDEX Contact Information
Contact details of GDEX for various cities are listed below along with respective GDEX customer care numbers, emails, and their office addresses.
Address: No 19 Jalan Tandang, 46050 Petaling Jaya, Selangor Darul Ehsan Malaysia.\
Phone: +60 03-77872222
Email: [email protected]
Official Website: http://www.gdexpress.com/
About GDEX Services
GDEX has a network of 410 stations in Peninsular and East Malaysia, with 100 branches, 57 agents, 11 lodge-in centers, and 242 reseller agencies. GDEX has a fleet of 1300 vehicles and vans and a staff of 4384 as of June 2020. Our Core Values are centered on our people, emphasizing positive energy, putting customers first, upholding high standards of ethics, promoting teamwork, and being inventive in order to gain a competitive advantage. Our Management Principles emphasize worldwide mobility, as well as scalability, sustainability, and technological innovation. We are confident that our Corporate Qualities on (4P1S) will provide a low-cost, quick, and dependable express carrier service.
Every member of the GD Express team, including the Managing Director, is expected to be hands-on. Managers work alongside operational and delivery workers on the ground, learning, mentoring, and solving problems as they go, and treating each other with care and respect. The core of our dedication to our clients is our employees and management's mutual commitment.
In the event that the Consignment/Reference Number/Order Number do not match
The reasons could be 1 or more of the following:
Incorrect Consignment/Reference Number Number entry.
Invalid Consignment/Reference Number entry. The Consignment number varies between 7 to 11 digits only. Please re-check the numbers you have entered.
For multiple queries, please separate each Consignment or reference number with a comma only e.g. 111111,2222222,3333333
Incorrect Option Selection. You may have selected a Consignment option and entered a Reference Number, or vice versa. Please re-check your entry option.
There is no information on the Consignment/Reference Number/Order Number you have entered. Please try again later after some time.